Fashion
Traditional Dress of West Bengal with Pictures For Men & Women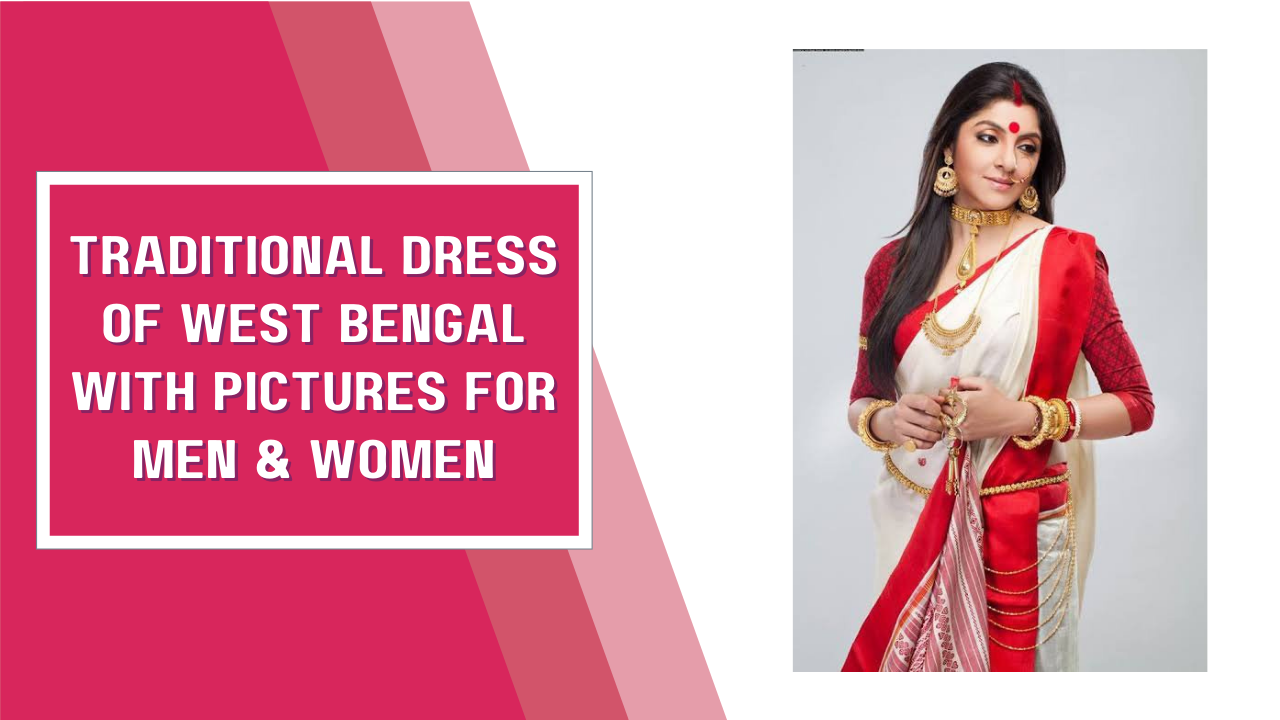 West Bengal is regarded as one of the most cultured states in India. It has a unique culture and heritage that distinguishes it from the other states. Millions of people around the world have fallen in love with Bengali cuisine. You will enjoy sampling its cuisines. Bengal is also well-known for its beautiful and well-known clothing. Bengal is also the traditional weaving industry's home. Some areas or districts in Bengal are well-known for their weaving and artistic works. The goods from these locations are distributed throughout the country. It is also occasionally sent abroad.
Traditional dress of men in West Bengal:
You'll be fascinated by the traditional dress of men in West Bengal. Bengali men's and women's clothing is elegant and appealing.
Dhoti and Punjabi:
The majority of Bengali men dress in Dhoti and Punjabi. It is a traditional Bengali men's outfit. However, the dressing pattern has evolved dramatically over time. Men dress in jeans and a shirt or pants. The dhotis are made entirely of cotton. Tussar dhotis are also worn by men at weddings and pujas. During weddings, even Bengali grooms wear dhoti and Punjabi. Punjabis are beautifully embroidered and designed.
Pajama and Punjabi:
Men in Pajamas and Punjabi can also be found in many places. The pyjamas are all white. The Punjabis are beautifully embroidered. They improve men's appearance. Bengali men typically wear short kurtas with pants or pyjamas. It is a comfortable garment that men can wear. Kurtas come in a variety of colours and materials. You can select the best one for your needs.
Santal tribe:
This tribe's men dress in knee-length white dhotis. It is fastened around the waist. They dress in short kurtas on top. They are Bengal's oldest inhabitants.
Traditional dress of women in West Bengal:
Bengali women are the most stunning and glamorous. You'll be intrigued to learn about their outfits.
Sarees:
The saree is the most common and traditional garment worn by Bengali women. In sarees, they look stunning. Sarees originated in Bengal. You will be able to purchase some traditional Bengali sarees. Tant, silk, and cotton sarees are available. They come in a variety of prints and designs. The saris are six yards long. They pair their sarees with a well-fitting blouse. Women wear red and white sarees with traditional jewelries to pujas.
A wedding in Bengal is a lovely occasion. The brides are dressed in Banarasi sarees. They come in a variety of colours.
Salwar Kameez:
In many workplaces, you will see many women wearing salwar kameez and number one salwar kameez wholesaler is from surat. They provide them with a comfortable feeling as they move. The salwar kameez is exquisitely designed. They come in a variety of fabrics and designs.
Jewelry is another distinctive accessory for Bengali women. They are decked out in pure gold jewellery.
Santal women:
This tribe's women dress in knee-length white and red sarees. They tie the saree tightly around the chest to keep it firm. They do not dress in blouses. However, they are now seen wearing blouses with sarees.
Final Thoughts:
Bengal is a land rich in culture and heritage. There will be plenty to do and see here. This is Rabindranath Tagore's homeland. As a result, culture and traditions can be found everywhere. It would be beneficial if you visited this location to appreciate its beauty from every angle.